Seelos News Archive 12 (2017)
HOW THE PARISH OF ST MANG,FÜSSEN WILL CELEBRATE 150th ANNIVERSARY OF THE DEATH OF BLESSED SEELOS(12 Sept 2017)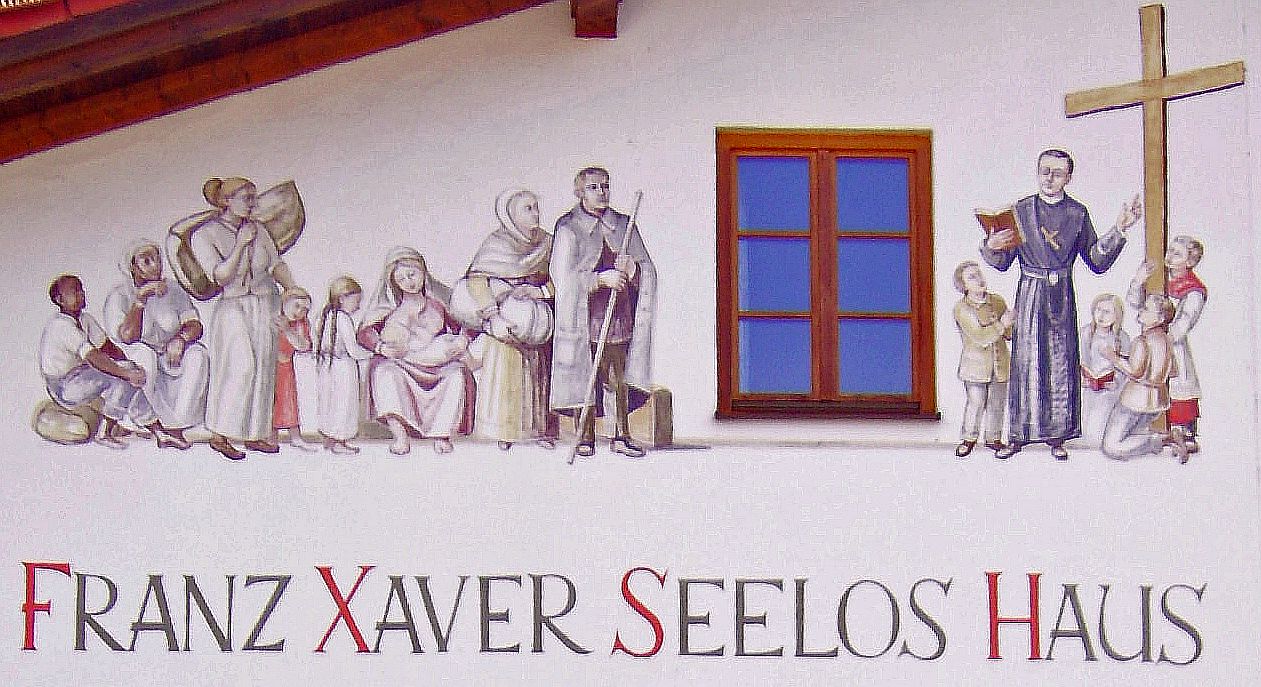 Details are finally coming in about how the St Mang Parish in Füssen,will commemorate the 150th Anniversary of the death of Blessed Francis Xavier Seelos,who was born in the parish,11th January 1819.
An article about Blessed Seelos,written by the very knowledgeable,Deacon Fredl H. will appear in the October issue of Katholisch - Füssen
The Deacon is a mine of information about the history and customs of old Füssen and has a great love of Blessed Seelos.He has visited the National Seelos Shrine in New Orleans,as well as the Church of St Mary Assumption where Seelos served in his last post,before dying of yellow fever on 4th October 1867.
The Parish also have a glass display case in the porch which is changed regulaly to show Parish Pilgrimages,activities and also promote The Rosary,St Mang and other Catholic issues.During the month of October it will feature Blessed Francis Xavier Seelos in honour of the 150th Anniversary of his death.We have been informed by one of the priests who works in the Parish,that a special Mass will also be celebrated,this will be on 4th October at 1900hrs in St Mang Basilica.
BLESSED SEELOS FEATURES IN A REREDOS IN "OUR LADY OF THE MOUNTAINS CHURCH" JASPER,GEORGIA,U.S.A.12 May 2017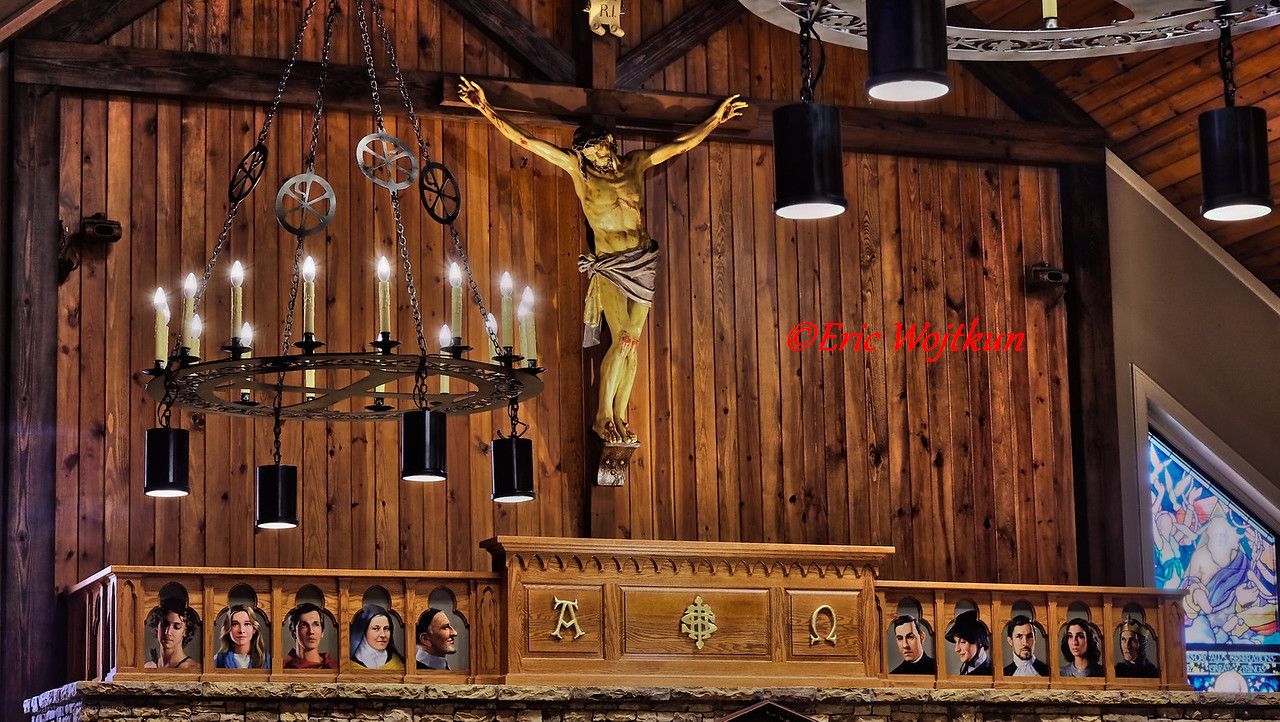 When I first came across the name "Reredos",I had to resort to my dictionary.What was this refering too and how did Blessed Francis Xavier Seelos fit into it?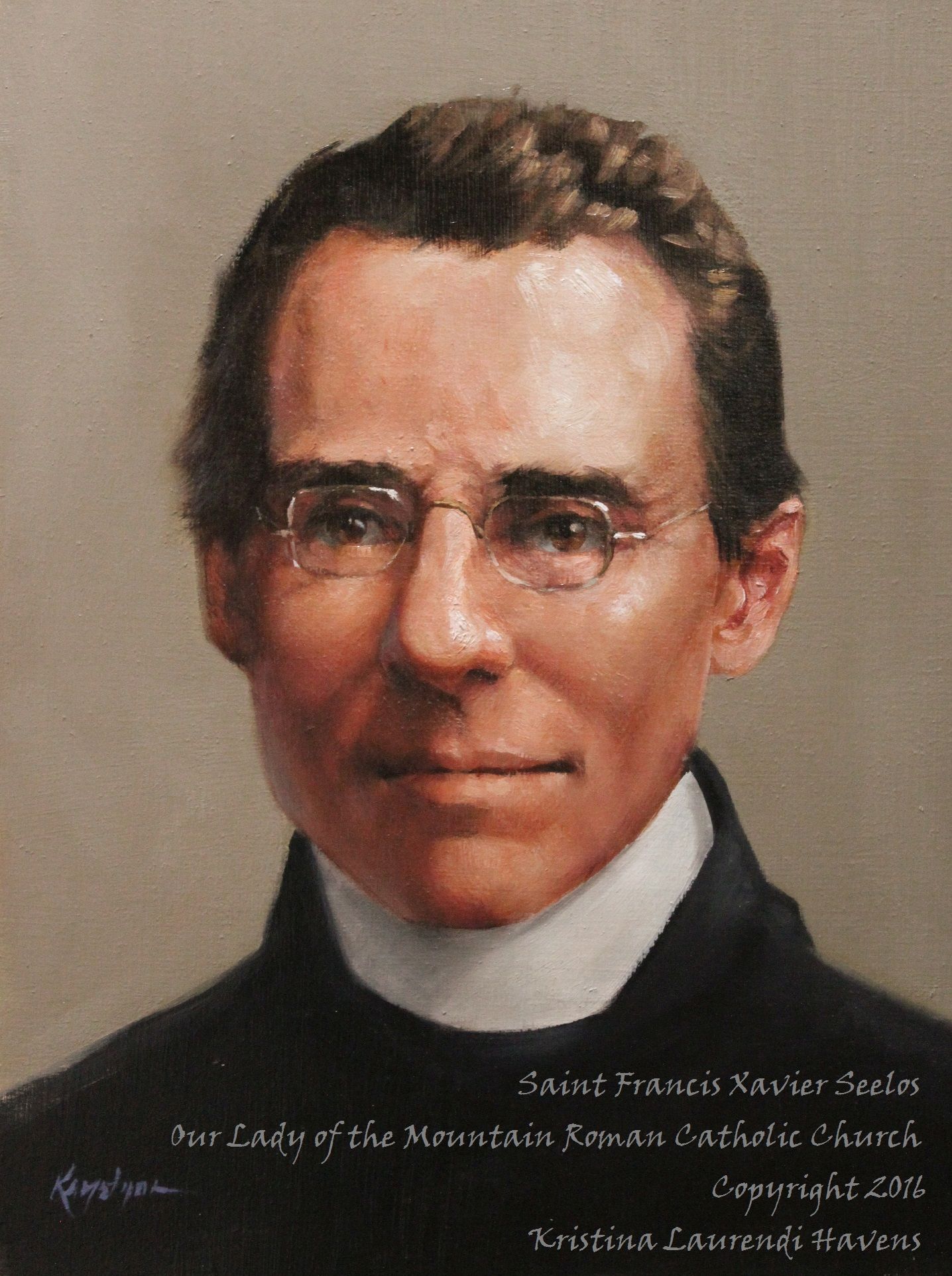 According to the dictionary,a Reredos is a large Altarpiece,screen or decoration placed behind the Altar in a church.It often includes religious images.It can be made of various materials,the one we are interested in is made of wood with niches for the paintings.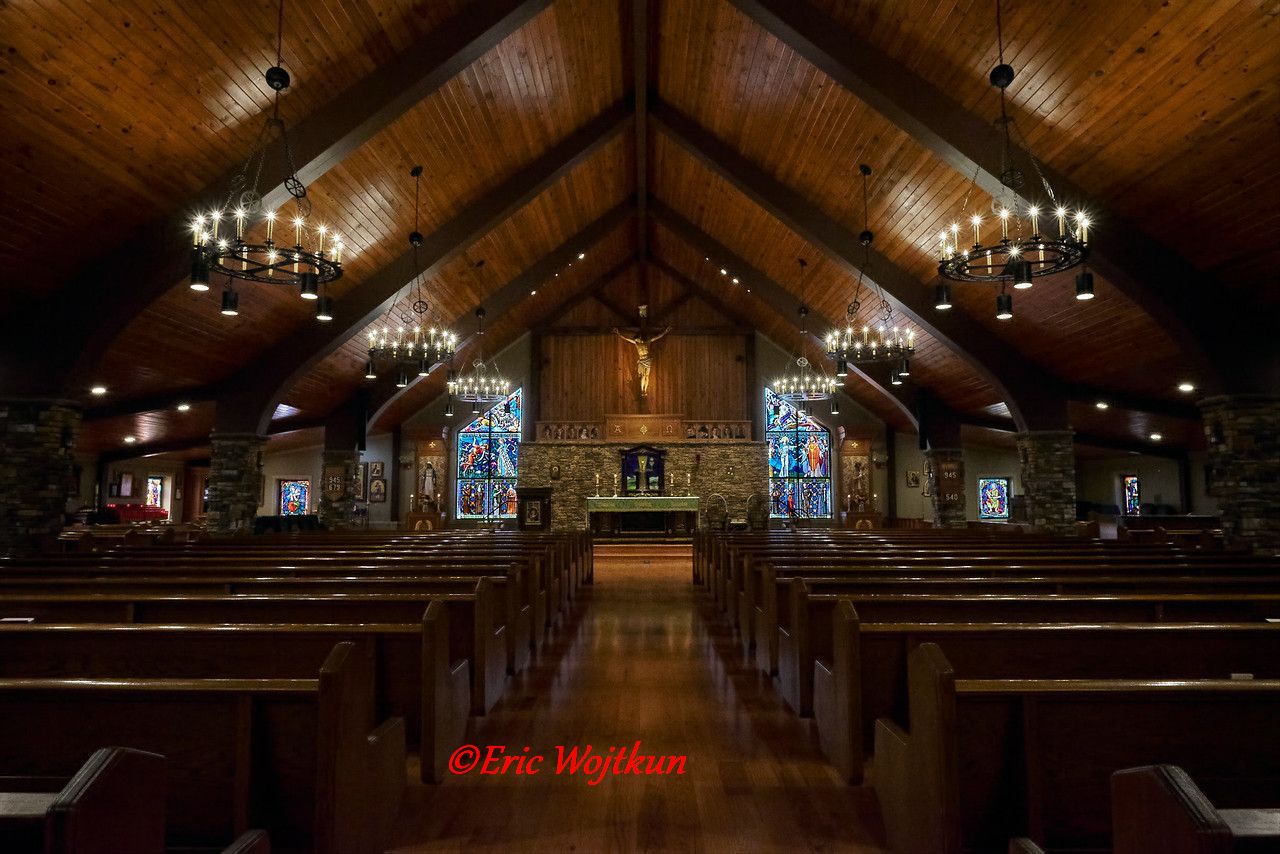 I came across a photo of Blessed Seelos I had not seen before the other day whilst searching the web.I traced it back to the Catholic Church of Our Lady of the Mountains,Jasper,Geogia,U.S.A.
Our Lady of the Mountains is a small thriving Parish located in the North Georgia Mountains.The Parish is run by Father Charles Byrd and has over 550 families within its boundaries.

Parish Priest,Father Charles Byrd told me more about the parish and Blessed Seelos.
"We have a first class relic of Blessed Francis Xavier Seelos, and we have taken our teenagers on pilgrimage to New Orleans and offered the Holy Sacrifice of the Mass there at his shrine.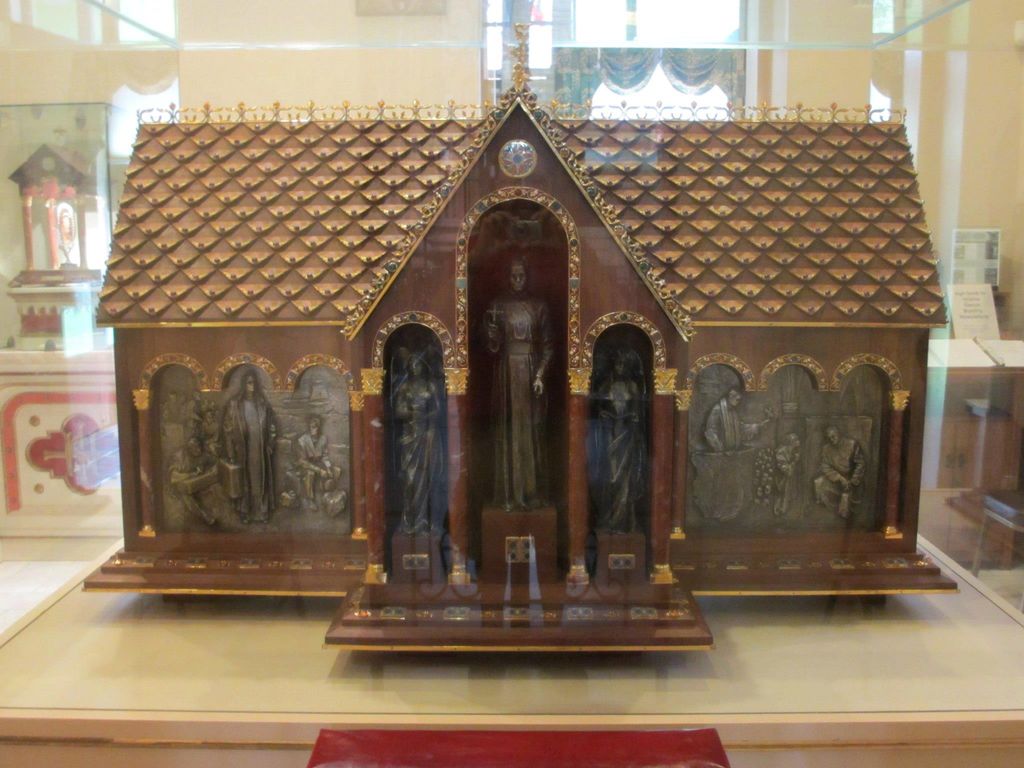 Casket containing the remains of Blessed Francis Xavier Seelos
Photo Copyright Paul Schwartz
                                  Our reredos is a set of wooden casings that are visible above the stone wall that is behind our altar. These casings allow space for sixteen hand painted portraits or icons of various saints. From the front, you can see only ten, but then on either side (wrapping around) there are three more to make a total of 16 paintings. These were all painted by Kristina Havens (a local artist).We are very proud of her work."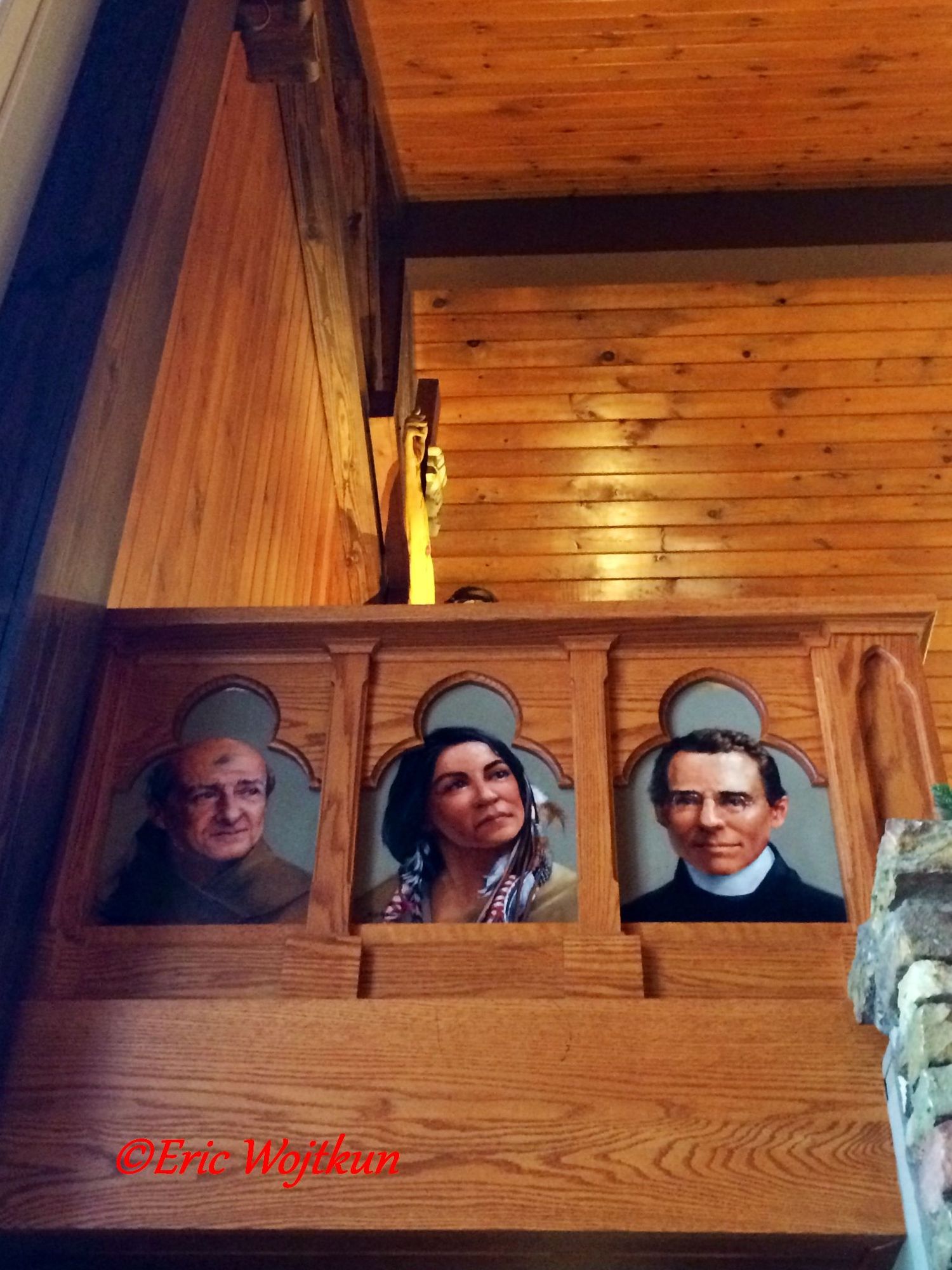 I asked Father Byrd how they came to choose the 16 saints depicted on the reredos,he told us " I picked the saints and blessed, and for different reasons. Americans are made up of many heritages, so I tried to incorporate saints from some of our various homelands. I wanted lay people and clergy, I wanted men and women, and I wanted saints who were not already in our stained glass windows. I also chose some saints that were important to our own nation, like Blessed Francis Xavier Seelos. So I have St. Junipero Serra, and St. John Paul II, and St. Monica and St. Joan of Arc, and St. Miguel Pro and St. Kateri Tekakwitha. They are kind of all over the place, but they all look down upon us now, and inspire us."He did a brilliant job with his choices!
I would recommend that anyone who is in the area makes a visit to this stunning Church which also shares the name of one of  Blessed Seelos' favourite Shrines in Germany-The Frau am Bergkirche in Füssen.Blessed Seelos had a great love of Our Blessed Lady.He often asked his sisters to go and pray for him at the Shrine of Our Lady of the Mountain.Letter contained in the book "Sincerely Seelos" The collected letters of Blessed Francis Xavier Seelos edited by Carl Hoegerl,C.Ss.R mention the Shrine on page 69 ref 13 .The Church can be found on the road leading out of Füssen towards the Austrian border,which is 2 kilometres away.It is now only used 2 or 3 times a year,but in the old days,its position on the Via Claudia meant many pilgrims stayed overnight in the two large dormatories located in the roof space of the church.
BLESSED SEELOS WINDOW BOX IN MOBILE,ALABAMA,U.S.A. FINALLY ON DISPLAY-10 May 2017
©PHOTOS COPYRIGHT-Maria Ann Callaghan
Wonderful to see the enthusiasm of the Blessed Seelos Prayer Group in Mobile,Alabama,USA.They have been planning for over a year to have a window box in the Church of St Catherine of Siena.Finally during the month of April it was completed.Here is how the group announced it on their Facebook site.The display includes the Bavarian Flag as well as the official city of Füssen Flag.Also included are large and small Seelos candles,pamphlets in German from the Basilica of St Mang Füssen and German copies of the Seelos Novenna which was translated by Dr.Miriam Rosenthal-English and has a forward by former Parish Priest of Füssen,now Prelate & Bishop's Vicar,Karlheinz Kebel.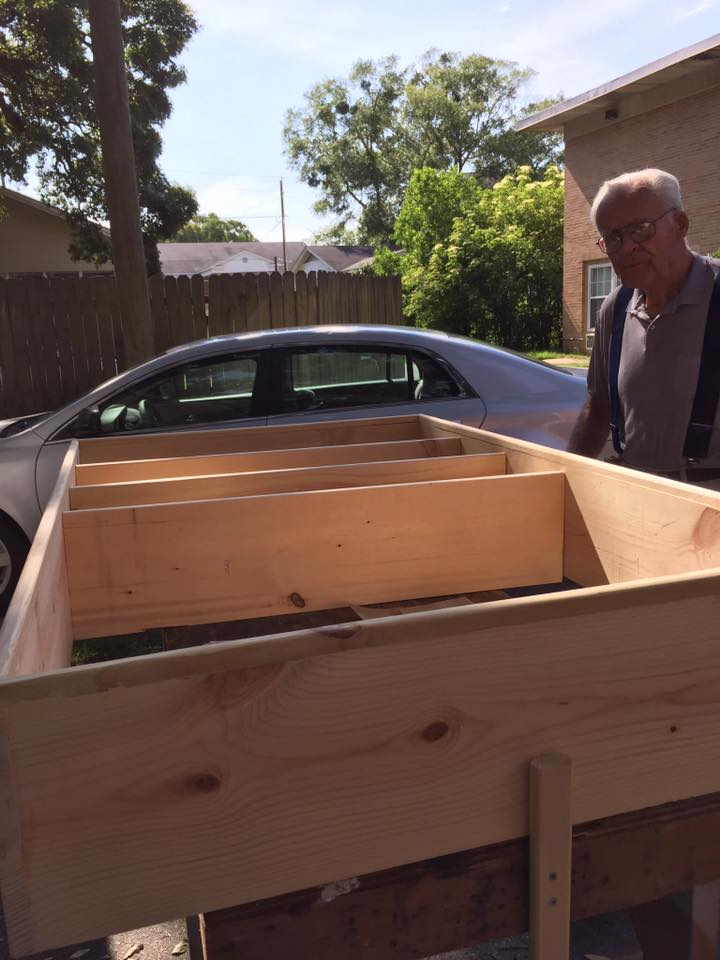 Brother Joseph making the window box.©PHOTOS COPYRIGHT-Maria Ann Callaghan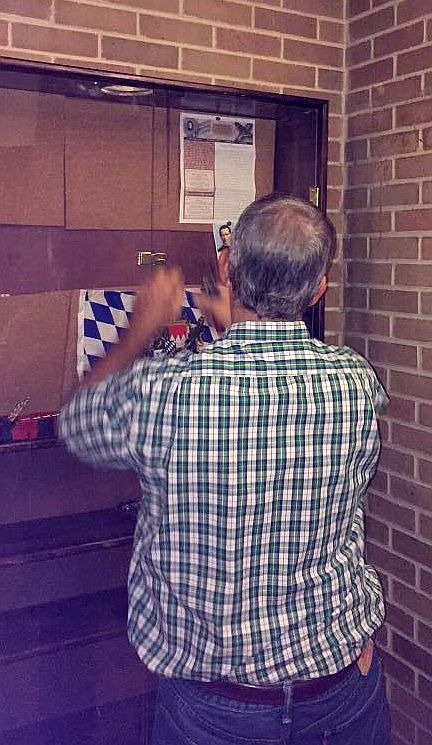 Preparing the window box.©PHOTOS COPYRIGHT-Maria Ann Callaghan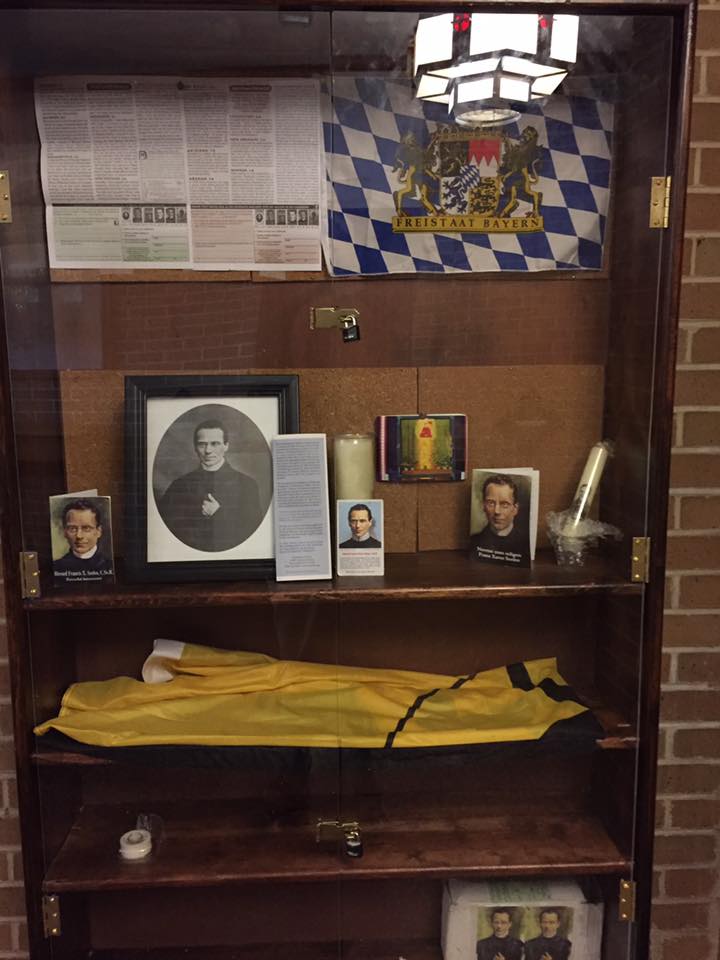 Window Box Display from Blessed Francis Xavier Seelos Prayer Group in Mobile,Alabama,U.S.A.©PHOTOS COPYRIGHT-Maria Ann Callaghan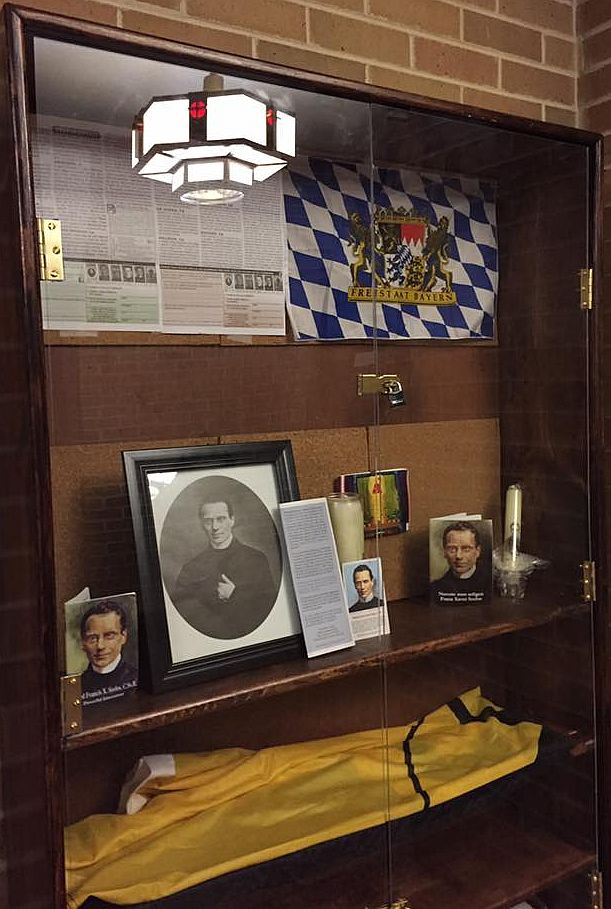 ©PHOTOS COPYRIGHT-Maria Ann Callaghan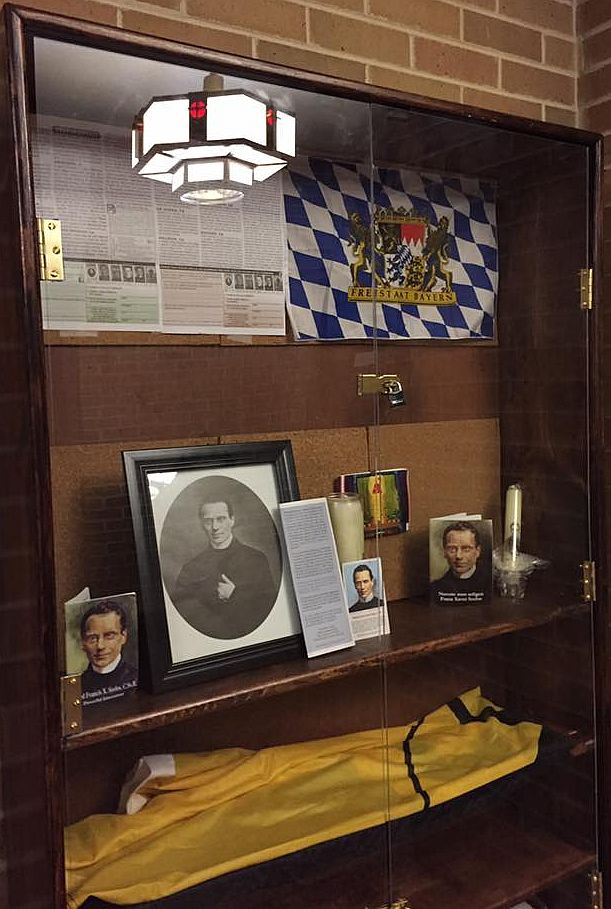 Window Box Display in Mobile,Alabama,U.S.A. showing items sent from Füssen,Germany.©PHOTOS COPYRIGHT-Maria Ann Callaghan
FÜSSEN CELEBRATES 300 YEARS OF THE BAROCK CLOISTER, ST MANG-WILL IT REMEMBER TO CELEBRATE THE 150TH ANNIVERSARY OF THE DEATH  FÜSSEN'S,FRANCIS XAVIER SEELOS?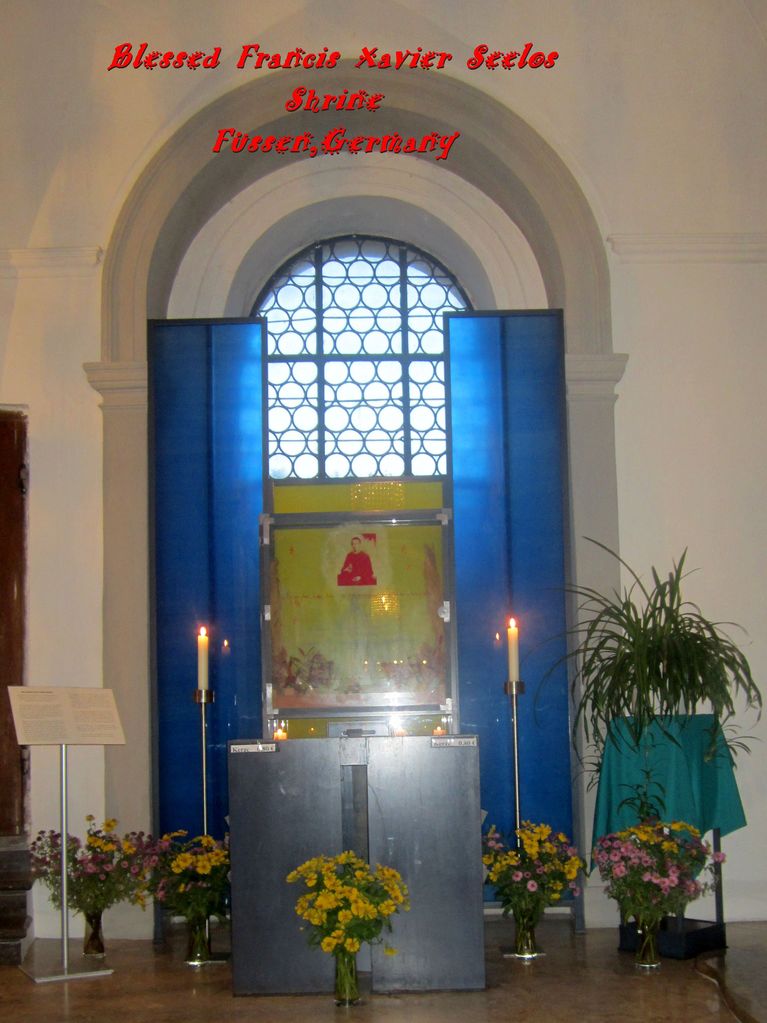 Both the Parish and city of Füssen,Bavaria have pulled out all stops to celebrate the 300th anniversary of the Cloister St Mang.Many events are taking place throughout the year to inform the public about the history of the Cloister.The media have also joined in this great joyful occassion.
With all the information available and events that will take place during this year not one mention has been made by either the local Parish community or the city,of how they plan to commemorate the historic occasion of the 150th anniversary of the death of Blessed Francis Xavier Seelos!
Maybe they will ignore the occasion completely.That would be a very sad occasion,if this "son of Füssen" who gave his life to bring the Gospel of Love to others in need was to be forgotten in his home town!
Seelos in Füssen interviewed one of the members of St Mang Parish Council and asked what was planned for the 150th Anniversary of the death of Blessed Francis Xavier Seelos.The Parish Council member had no idea that it was the 150th Anniversary of Seelos's death on 4th October this year!Also the member told our reporter nothing has been discussed about Blessed Seelos at all!Also the Parish website Katholisch in Füssen makes no mention of any plan to celebrate this great occasion!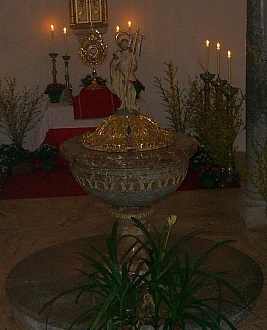 Font where Francis Xavier Seelos was baptised 11th January 1819.
 ANNUAL HEALING MASS CELEBRATING THE 150TH ANNIVERSARY OF BLESSED SEELOS' DEATH  IN NEW ORLEANS!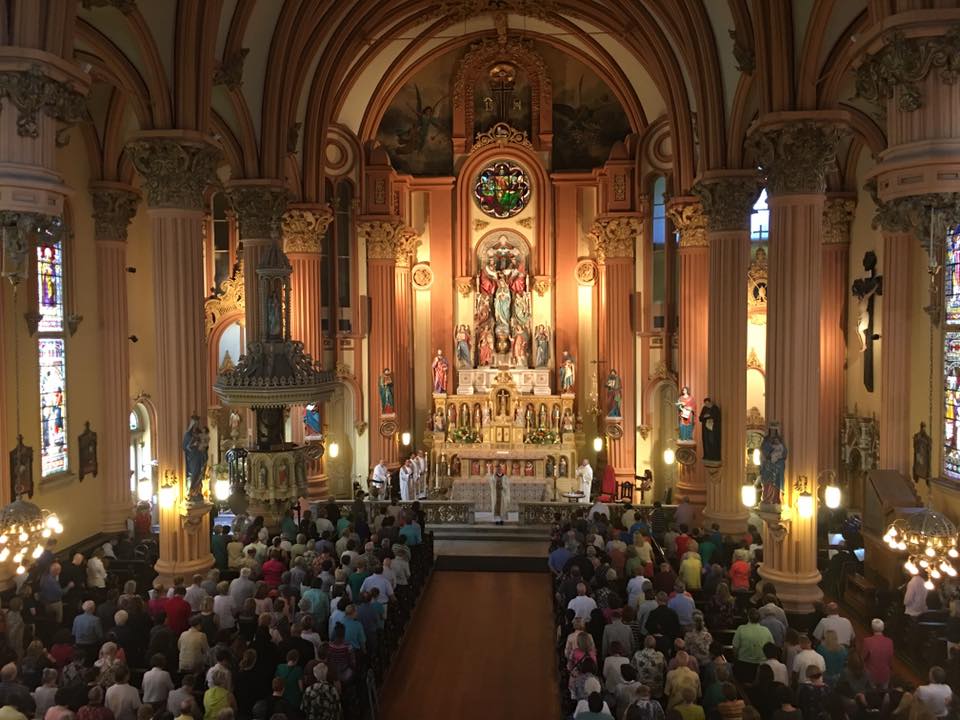 Seelos Mass in St Mary Assumption Church,New Orleans-
©
PHOTO COPYRIGHT-Michelle Nawaz,New Orleans
01 October 2017
at

13:00hrs

CDT
St. Mary's Assumption Church
919 Josephine Street (Corner of Josephine & Constance Streets)
New Orleans, LA 70130

• Confessions before Mass at 1145hrs.
• Veneration of Relic Missionary Crucifix
• Wheelchair Accessible...
• Free parking is located in the lots on St. Andrew, between Magazine and Constance. Street parking also available.
• One-on-one intercessory prayer in back ofchurch & in shrine, starting at 1145hrs. – venerate his relic as you and your loved ones enter!
• Please do not enter the Church before the Parish's weekly Mass at 1030hrs., which normally ends before 1140 hrs. This can be very disruptive to the sanctity of the liturgy being performed, so we kindly ask for your cooperation in this matter. If you arrive early, you are welcome to visit the Seelos Welcome Center or meditate in the courtyard of the Center or the courtyard behind the Shrine & Church. Please note that there is limited seating available outside in the courtyards and inside the Center.
• Seelos Gift Shop will be open before & after 150th Anniversary of Blessed Francis Xavier Seelos' death Healing Mass. The Center will open at 1000hrs
FOR MORE INFORMATION:
(504) 525-2495 or seelos.org
Visit the newly renovated Shrine/Museum Seelos Welcome Center
OPEN: M-F 0900-1500hrs Sat: 1000-1530hrs
CATHOLIC HOMESCHOOLING MAGAZINE  RECOMMEND  BLESSED  SEELOS AS  A HELP
Seton Magazine has been affirming the homeschool lifestyle online since 2013.Many in the USA and throughout the world choose to homeschool their children if the law of the land allows.
Gina Berrios,is a mother of 6 and homeschools her children.She wrote an article on Blessed Seelos and his relevance to homeschooling.An interesting and informative article which can be viewed HERE.
FATHER BYRON MILLER INDUCTED INTO THE "ORDER OF SEELOS WITNESS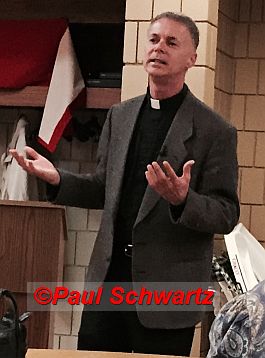 Father Byron Miller C.Ss.R. returned to his beloved New Orleans for the 13th Annual Blessed Seelos Gala which was held at the Audubon Tea Room.Hundreds were there to see him inducted in the Order Of Seelos Witness for embodying the principles and values that could be found in the life of Blessed Seelos.His family were there to see Father Byron honoured for his 15 years of outstanding service at the National Seelos Shrine in New Orleans.
DURING YEAR OF MERCY,SHRINE WHERE BLESSED SEELOS WAS PARISH PRIEST HAS HOLY DOOR.
The Shrine of St Peter & Paul in Cumberland,Maryland was built by St John Neumann and dedicated in 1850.Father Seelos became Parish Priest here.Capuchin Franciscan Father Gregory Chervenak, pastor of Our Lady of the Mountains Parish, which includes the Shrine of SS Peter and Paul, discusses the history of the western Maryland church.
FRANCISCAN MEDIA SAINT OF THE DAY-12th OCTOBER
https://www.franciscanmedia.org/blessed-francis-xavier-seelos/
NOBILITY SAINT OF THE DAY-5th OCTOBER
http://www.nobility.org/2016/10/03/francis-xavier-seelos/
PHOTOS OF THE NEW ORLEANS SEELOS SHRINE-NOT TO BE MISSED!
Whilst searching the internet for more info on Blessed Seelos I stumbled upon these beautiful photographs of the Shrine in New Oreleans.You can view them HERE
SEELOS HEALING MASS 24 APRIL 2016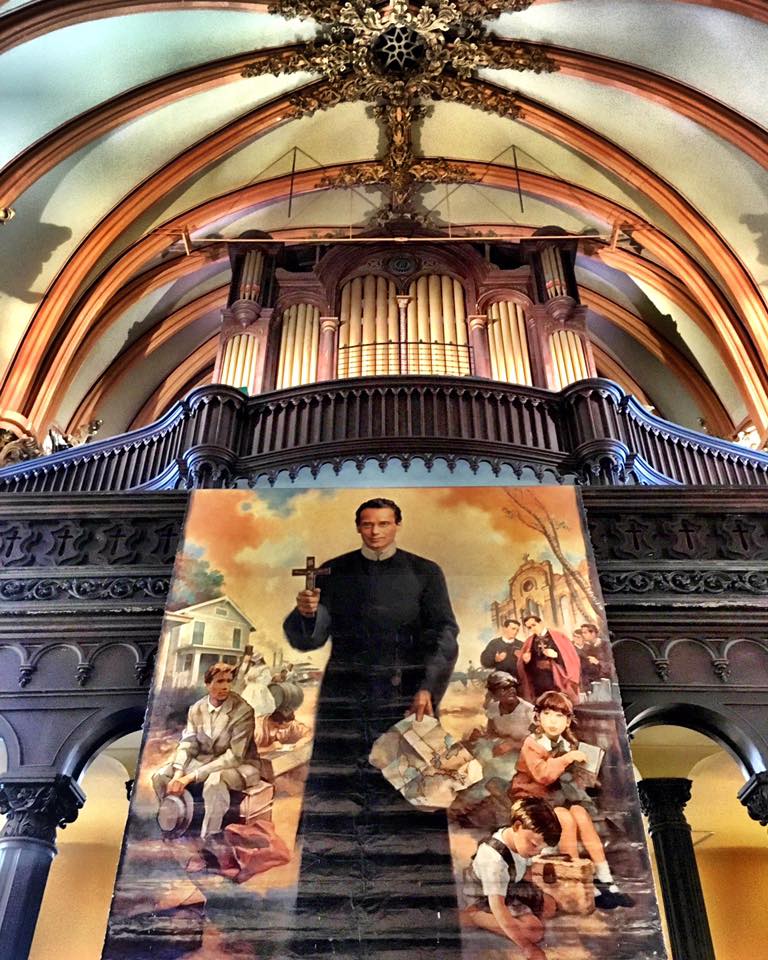 ©PHOTO COPYRIGHT-Michelle Nawaz,New Orleans
Thrice  yearly in St Mary's Assumption Church,New Orleans they hold a Special Healing Mass in Honour of Blessed Francis Xavier Seelos.Seelos died of yellow fever in New Orleans  on the 4th October 1867.He had spent a year in "the south" bringing Christ's love,joy and hope to those who lived in "The Crescent City".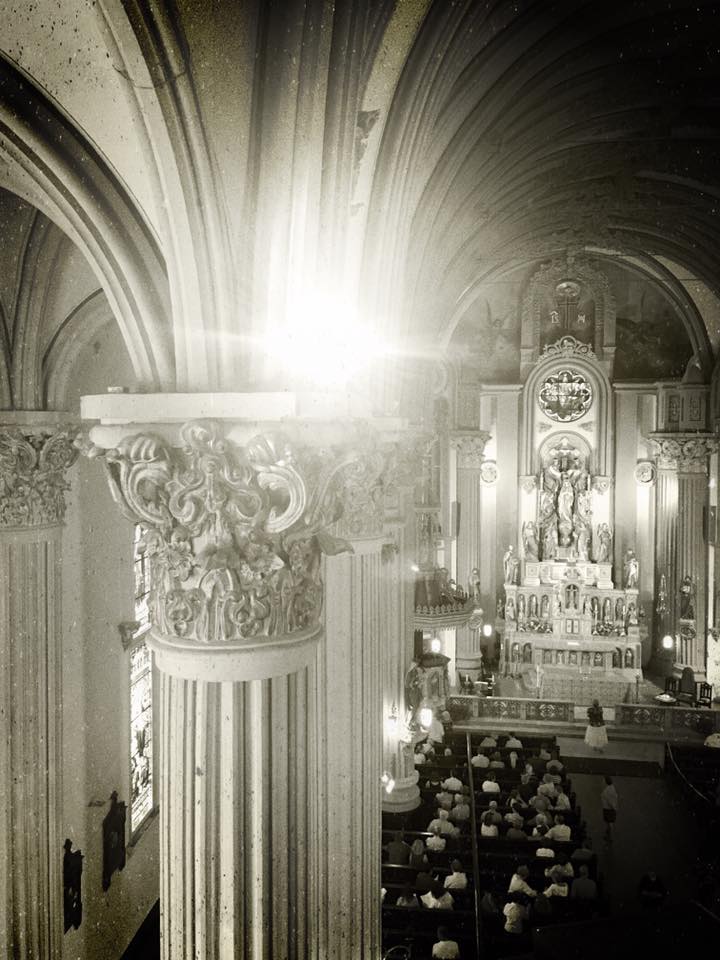 ©PHOTO COPYRIGHT-Michelle Nawaz,New Orleans
Sunday April 24 the church was once again packed as many came for confession,Holy Mass and to be blessed by a relic of Blessed Seelos.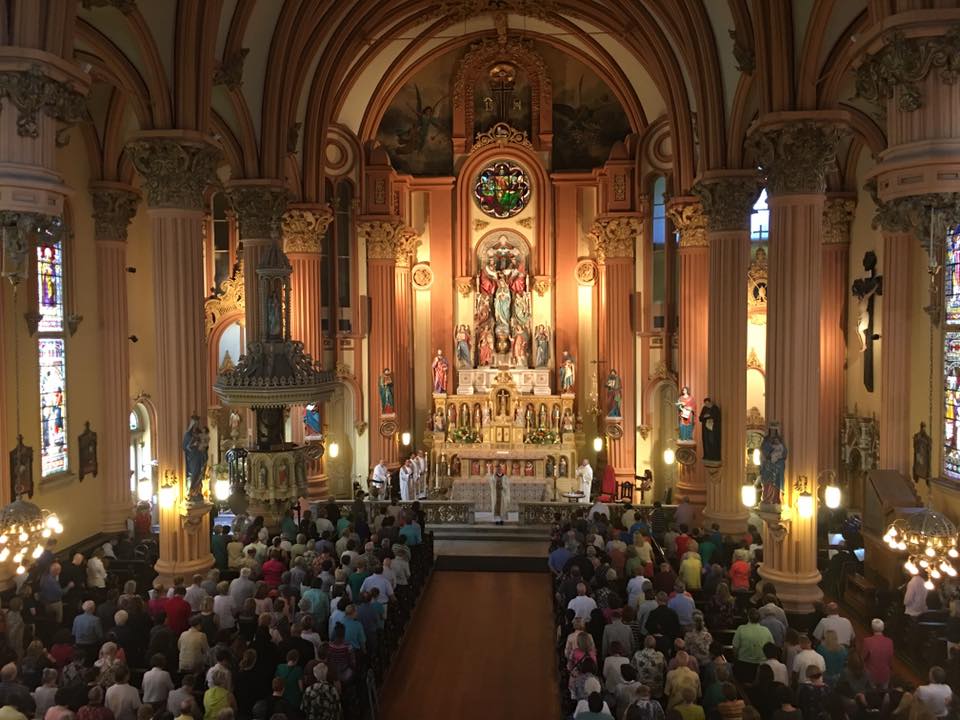 ©PHOTO COPYRIGHT-Michelle Nawaz,New Orleans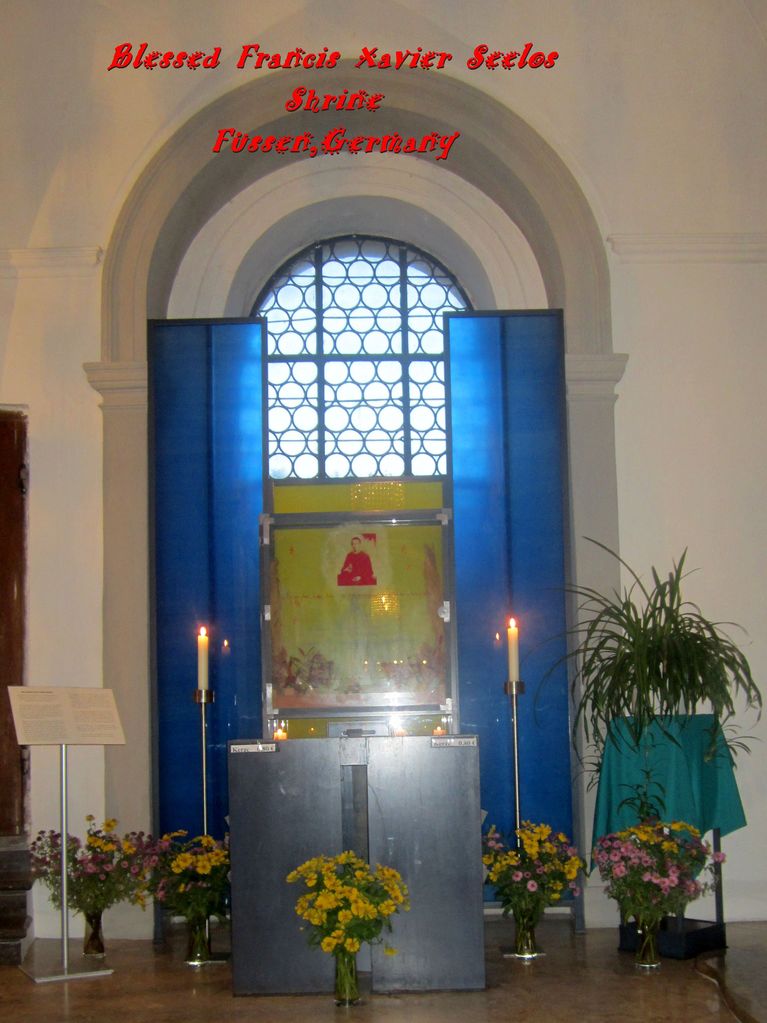 HYMN SUNG AROUND THE DEATHBED OF BLESSED FRANCIS XAVIER SEELOS-MILDE KÖNIGEN GEDENKE
http://www.komotau.de/musik.html Scroll down to KIRCHENMUSIK and click on Milde Königen
The origional words can be found here
---------------------------------------
SEELOS SHRINE FÜSSEN PRAYER REQUEST BOOK
 
OFFICIAL SEELOS SHRINE NEW ORLEANS

BREAD FOR TODAY-A DAILY REFLECTION FROM THE AUSTRALIAN REDEMPTORISTS