Bishop's Vicar Karlheinz Knebel
Bishop's Vicar Karlheinz Knebel R.I.P.
Born Füssen 26th November 1951
Died Augsburg 04th November 2017
GERMAN WIKIPEDIA  PRELATE KARLHEINZ KNEBEL  PAGE
AUGSBURG DIOCESE- Bischofsvikar Prälat Karlheinz Knebel nach kurzer schwerer Krankheit verstorben
Media links
http://www.katholisch1.tv/index.php/kath1/Videos/Bischofsvikar_Praelat_Karlheinz_Knebel_verstorben_Montag_06._November_2017_11_00_00
http://pg-utting.de/artikel/praelat-karlheinz-knebel-verstorben
https://www.meinbezirk.at/reutte/lokales/karlheinz-knebel-ex-stadtpfarrer-von-fuessen-gestorben-d2307137.html
https://www1.meinbezirk.at/reutte/c-lokales/karlheinz-knebel-ex-stadtpfarrer-von-fuessen-gestorben_a2307137
http://www.augsburger-allgemeine.de/bayern/Bischofsvikar-Knebel-ist-gestorben-id43170521.html
http://www.die-tagespost.de/kirche-aktuell/Personalien;art312,182980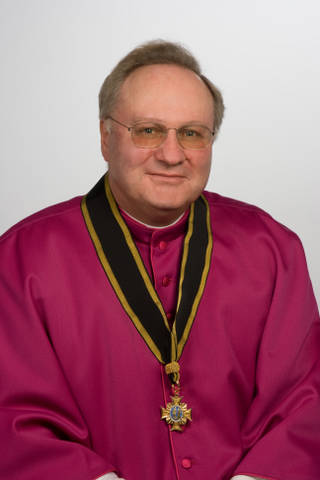 Photo Copyright © 2011-Prelate Karlheinz Knebel
21 YEARS BRINGING CHRIST 'S  LOVE TO THE PEOPLE OF FÜSSEN!
Karlheinz Knebel was born in Füssen,Bavaria,Germany,on 26th October 1951.He was baptised in the Hospital Chapel. He is the only child of Gustav(R.I.P.) & Amalie Knebel(R.I.P.)
Karlheinz was confirmed by Bishop Dr.Josef Freundorfer.
He made his 1st Holy Communion in the Basilica of St Mang in Füssen,and used to serve daily Mass in the Hospital Chapel at 0600hrs!
When he was 14 he felt the call to a Priestly vocation.His father had a great influence on his life and one can be sure that his parents helped the future Priest to follow this calling.
He went to the Diocesan Seminary at Augsburg to study Theology for the Priesthood in 1972.
He was Ordained in the "Hohen Dom" in  Augsburg on 18. Juni 1978.His 1st Mass was celebrated in St Mang Basilica,Füssen.
Monsignor Knebel blessing horses in Eschach for Feast of St Leonard
His 1st Parish Priest was Father Walter Mixa,Now Bishop of Augsburg and Bishop of the German Forces.He learnt much from the future Bishop spiritually.
He has served in the following Parishes:
City Chaplain,(Curate) 1978-79:Schrobenhausen St. Jakob,
                                   1979-80:  Nördlingen St. Josef & St. Salvator,
                                   1980-83:   Kempten St. Lorenz,
Parish Priest                1983-1987: Utting am Ammersee
On 22nd July 1987, he was made the Parish Priest of St Mang in Füssen by Bishop Stimpfle.
                      In 1989, became Dean of Füssen
                      In 2005, became Regional Dean of Kaufbeuren and Leader of the Füssen Partnership of Churches.
So what did Monsignor,do for the Parish in those 22 years?
Well the Catholic kindergarten,St Gabriel, was in huge debt.He turned that round and it is now viable with more and more children attending it.A new classroom opened in September 2007.It is the largest kindergarten in the area.The state schools allowed him to teach a religious lesson once a week to the 3rd class.Other Parish workers also teach the children.
4 separate Parishes have become one, although they still work autonomously, apart from the Liturgy of the Word for children.
He made a Shrine to Blessed Francis Xavier Seelos who was Born,Baptised and educated in Füssen and beatified by Pope John Paul II on the 9th April 2000.
He tried to make the Basilica not only a place of intense prayer and spirituality, but also a centre of culture,both artistically and musically.
He had also been responsible for carrying out extensive renovation of the Basilica of St Mang and other churches in Füssen.
He was Dean of Füssen and Area Dean of the Kaufbeuren District of Augsburg Diocese.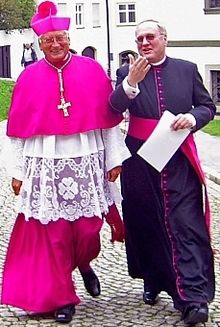 Monsignor Karlheinz Knebel with Bishop Mixa of Augsburg (2007)
Monsignor brought a human touch to his ministry enabling all to find him easily approachable.His spirituality,prayer and sound advice in the confession have helped many to grow in their faith.
Monsignor Knebel has 4 saints who he would call his favourites:
             St Therese of Liseaux.Became a Carmelite at the age of 15.Lived her "Little Way" in the convent until she died aged 24.Her hidden life was full of the love of God.She offered her life and suffering to God.She was pronounced a Doctor of the Church and is Patron Saint of the Missions.
             St Francis of Assisi  Gave up all the riches and high life he had, to live the life of poverty and love for the Lord.Had many trails and tribulations in his life.He went to Rome to visit Pope Innocent III.The Pope at first refused to see Francis and his companions.However that night he had a dream of Francis holding up a collapsing church.He called him back and allowed him to found the Franciscan order.St Francis of Assisi had the stigmata.
St Magnus:What priest who was born,baptised and became Parish Priest of Füssen,wouldn't have the "Apostle of the Allgäu"as his favourite Saint.Little is known of St Mang except he was in Füssen and founded the Monastory here.Legends abound about his killing dragons in the locality.The bones of St Magnus were buried in his own little Chapel he had built.But in 850 the bones were transferred to the new grave in the crypt.One piece of bone was transferred to St Gallen in Switzerland.
  250 years later around 1100 all the bones of the Saint disappeared.They got a splinter of the saints bone from St Gallen and it is now kept as a relic in the glass Cross over the main alter of the Basilica. Mass is celebrated every Monday at 0830hrs in the crypt where he was originally buried.His Feast Day is 6th September.
Blessed Francis Xavier Seelos The "cheerful ascetic",Born,baptised and schooled in Füssen.Went to Diocesan Seminary in Augsburg.There he meet some Redemptorists.He realised that this was his vocation and joined them on their American Mission to German speaking immigrants.He died of yellow fever in New Orleans. An excellent example to all priests.Like the Cure of Ars,he excelled in the confessional box and like the Cure,who is Patron Saint of Priests,made himself available for those wanting to confess.A thing not so common amongst German priests nowadays!They would rather tell you when the confession times are than hear your confession immediatly!
About his life as a Priest Monsignor told us,
"Der Priester ist ein Freund Jesu Christi.
"The Priest is a friend of Jesus Christ
 Durch die Weihe ist er ganz eng mit ihm verbunden.
Through the Consecration you are connected very closely with Him.
 Er soll der Kirche dienen und die Liebe Christi zu den Menschen tragen.
The Priest should serve the Church and take the love of Christ to all men.
   Diese Aufgabe hat jeder Getaufte auch, aber Jesus fragt den Priester "liebst du mich mehr".
Every Baptised person has this mission,but Jesus asks me as a Priest to "Love Him more".
Ich kann nur antworten: Ja Herr du weißtalles, du weißt auch, dass ich dich liebe."
I can only answer "You know everything Lord,You know I love you" 
We asked what advice he would give a young person who felt they had a vocation to the religious life.He told us: 
"Wenn Jesus sagt folge mir nach, dann habe ich es als befreiend empfunden: ihm ganz nachzufolgen und zwar in der Art und Weise wie ich es kann. "
"When Jesus asks you to follow Him,I felt liberated to follow Him in the way that I can."
Golden Jubilee of Ordination of Father Rudolph Böhm
20 Year Anniversary of Monsignor Karlheinz Knebel becoming Parish Priest of Füssen 
MASS IN C-MAJOR FROM LUDWICK VAN BEETHOVEN
Soloists:
Dr.Miriam Rosenthal-English-Soprano
Sabrina Tiedtke-Alto
Dr.Klaus Donaubauer-Tenor
Willie Pirzer-Bass
Motet Choir & Church Choir.
Füssen Chamber Orchetra with John Westerdoll as Leader.
Conductor-Albert Frey.
On the 4TH JULY 2008 he was promoted to Vicar General of Augsburg Diocese. 

BISHOP WALTER MIXA NAMES MONSIGNOR KARLHEINZ KNEBEL AS NEW VICAR GENERAL OF THE DIOCESE OF AUGSBURG FROM JULY  2008
Congratulations to Our Parish Priest,Monsignor Karlheinz Knebel on his promotion to Vicar General of the Diocese of Augsburg commencing July 2008.
A priest of many talents and great holiness,Monsignor was born in Füssen and decided at an early age he wanted to serve God as a priest.
Bishop Walter Mixa on Tuesday 1st April 2008 informed the Cathedral Chapter and  Conference  that  the present post holder,Prelate Josef Heigl was standing down due to health reasons.The Bishop thanked Prelate Heigl for the great work he has done whilst in the post.The Bishop then told  the Chapter & Conference that he had chosen Monsignor Karlheinz Knebel,Parish Priest of Füssen,Dean and Regional Dean to succeed Prelate Heigl as Vicar General.

 Monsignor took over his new post on the 4th July 2008,the feast of St Ulrich,Patron of the Diocese.
Monsignor will take charge of the administration,personal and pastoral matters in the Diocese on behalf of the Bishop.
Monsignor has been a priest of the Diocese for 30 years on the 18 June 2008.Interesting that he is the first priest in the history of the Diocese to hold this position and actually know what its like to run a Parish.Most Bishops pick Administrators to run the show,thank God,our wise Bishop has put a priest in the position who has knowledge of bringing Christ to others in the parishes!May the loss of Monsignor to the Parish be the Churches Gain!
Bishop Mixa was his 1st Parish Priest when he became a curate!
We pray that God will greatly bless Monsignor in his new post.
----------------
Vicar General Karlheinz Knebel receives Papal Honour.
The Vicar General of the Diocese of Augsburg,Monsignor Karlheinz Knebel has been elevated by the Pope to the rank of Prelate from 17th March 2009.
During Lauds(Morning prayer)in the Mariendom Cathredral,Bishop Waltar Mixa  read the Certificate of Appointment in latin.Congratulation from the Bishop was given to the newly honoured Prelate.
 
ANOTHER CHAPTER OPENS IN THE LIFE OF PRELATE KNEBEL(22 July 2009)
Bishop Mixa has appointed Prelate Karlheinz Knebel,Vicar General of Augsburg Diocese,a member of the Cathedral Chapter from 31st July 2009.
PRELATE KNEBEL RENAMED VICAR GENERAL BY BISHOP KONRAD ZDARSA.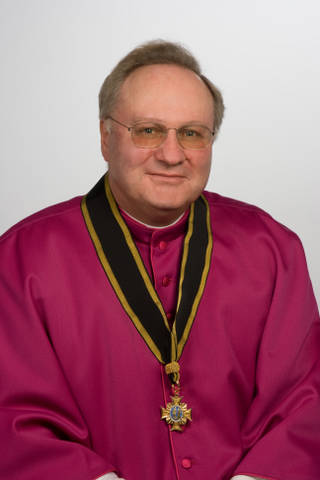 Photo Copyright © 2011-Prelate Karlheinz Knebel,Vicar General Augsburg Diocese
Prelate Karlheinz Knebel has since 2010 been a member of the Equestrian Order of the Holy Spulchre of Jerusalem.(Ordo Equestris Sancti Sepulcri Hierosolymitani, OESSH).It is a Catholic Order of knighthood under the protection of the Holy Father.
5th JUNE 2012-BISHOP KONRAD ZDARSKA REPLACED PRELATE KARLHEINZ KNEBEL AS VICAR GENERAL OF THE DIOCESE OF AUGSBURG EFFECTIVE FROM 15th JUNE 2012 .Prelate Knebel  became Bishop's Vicar for Church,Culture & Church Buildings.
PLEASE PRAY FOR THE REPOSE OF THE SOUL OF AMALIE
KNEBEL,DIED FRIDAY 18 MAY 2012:MOTHER OF PRELATE KNEBEL.THE REQUIEM MASS WAS CELEBRATED TUESDAY 22 MAY 2012 AT ST MANG BASILICA,FÜSSEN.
PRELATE KARLHEINZ KNEBEL GRAVE IN INNER GARDEN OF AUGSBURG CATHEDRAL